Aptamers 2017 invites demonstration of R&D and laboratory supplies related to DNA/RNA oligonucleotide research and invites commercial sponsorship. You are invited to choose from a variety of highly-competitive sponsorship packages listed below. If your needs are not covered by the offered packages please contact us in the first instance and we shall do our best to develop a package to suit your requirements.
Sponsorship packages
>Gold: Includes a speaker slot AND an exhibition stand (Sold out)
>Silver: Includes a speaker slot OR an exhibition stand (Sold out)
>Bronze
>Lunch/Dinner
>Refreshment Breaks
>Drinks Reception
>Delegate Bags (max 2)
>Delegate Badges (max 2)
>Symposium Documents (max 2)
>Exhibition Stand
For a packages, booking form and terms, please email at:
---
Aptamers 2017 Sponsors
Gold Sponsor and Exhibitor
RIBOMIC Inc is a biopharmaceutical venture company based in Tokyo. The company is developing molecular targeted pharmaceutical drugs using RNA aptamers with its unique and advanced platform technologies called the RiboART System.
RIBOMIC has been promoting the pharmaceutical discovery program in collaboration with Otsuka Pharmaceutical Co., Ltd., Taisho Pharmaceutical Co., Ltd., The University of Tokyo, and some other academic partners. Especially in April 2014, RIBOMIC entered into a world-wide exclusive license agreement for the anti-NGF aptamer (RBM004) with Fujimoto Pharmaceutical Corporation. In September 2015, RIBOMIC Inc. was listed on The Tokyo Stock Exchange Corporation Mothers Market…read more on the company website…
---
Gold Sponsor and Exhibitor
Aptamer Solutions Ltd: Continued success and growth has enabled Aptamer Group to restructure its Scientific Operations team. Increasing interest in the development of aptamers against small molecule targets has led to the formation of a dedicated scientific team. This is in addition to the existing team focused on aptamer generation against larger targets (proteins, viruses, cells etc).
Aptamer Group has developed a unique displacement method to overcome issues with the traditional bound target approach to select aptamers against small molecules. In a reversal, the aptamer library is bead immobilised and, after removal of non-specific aptamers, the small molecule target is presented in solution. Small molecule target specific aptamers are eluted, amplified and quantified before preparing a refined library for the subsequent round of selection. Counter selection steps can be included to drive specificity. We have had success selecting aptamers to a range of small molecules, including; anti-cancer therapeutics, a food contaminating neurotoxin, ATP and phospholipids.
An application of interest for many of our customers is protein purification. We are using our AptaBind selection process to develop aptamers for use in Aptamer-Mediated Affinity Chromatography (AMAC). The AptaBind process isolates only those that both bind and release the target protein under the customer specified purification conditions. These AptaBind aptamers are then immobilised onto an appropriate resin for use in aptamer-mediated column purification.
Aptamer selection is achieved using an automated high-throughput robotic selection platform. This enables rapid delivery of aptamers with the required specificity and binding characteristics.
---
Gold Sponsor and Exhibitor
SCIEX helps to improve the world we live in by enabling scientists and laboratory analysts to find answers to the complex analytical challenges they face. The company's global leadership and world-class service and support in the capillary electrophoresis and liquid chromatography-mass spectrometry industry have made it a trusted partner to thousands of the scientists and lab analysts worldwide who are focused on basic research, drug discovery and development, food and environmental testing, forensics and clinical research.
With over 40 years of proven innovation, SCIEX excels by listening to and understanding the ever-evolving needs of its customers to develop reliable, sensitive and intuitive solutions that continue to redefine what is achievable in routine and complex analysis. For more information, please visit sciex.com.
SCIEX social: Twitter: @SCIEXnews, LinkedIn and Facebook.
For Research Use Only. Not for use in diagnostic procedures. RUO-MKT-12-5101-A
AB Sciex is operating as SCIEX.
©2017 AB Sciex. The trademarks mentioned herein are the property of the AB Sciex Pte. Ltd. or their respective owners. AB Sciex™ is being used under license.
---
Silver Sponsor and Exhibitor
SomaLogic is transforming healthcare by applying our proprietary protein-measurement technology to enable the precise monitoring of each individual's health and wellness status in real time. We work with many different partners across research, health management, pharmaceutical development, and other health-related fields to build applications on our "SOMAscan Platform," a single cost-effective and reliable testing platform that provides actionable and timely information to patients and healthcare providers across a wide range of diseases and conditions. Our SOMAmer® and SOMAscan® technologies also have multiple applications across the biomedical and life sciences, and are currently available to the entire scientific community for their own research needs. For more information, visit www.somalogic.com.
---
Bronze Sponsor and Exhibitor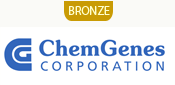 ChemGenes is offering nucleic acid expertise since 1981. ChemGenes Corporation, a biotechnology company, recently relocated to a state-of-the-art facility in Wilmington, Massachusetts. We have consistently been a strong partner to researchers engaged in the field of DNA/RNA synthesis for 36 years. By starting out as a supplier of 'Ultra Pure Products' and then by becoming an active Contract Researcher, ChemGenes Corporation has achieved unparalled expertise in the field of DNA/RNA synthesis. Thus, all of us at ChemGenes have the opportunity and great pleasure to serve a vast number of scientists in the US and all over the world. ChemGenes' product lines include phosphoramidites for RNA and DNA synthesis, Antisense phosphoramidites, modified bases for DNA, as well as RNA modification. In addition, we produce a variety of modified phosphoramidites for the introduction of chromophores and ligands. The availability of prepacked disposable columns of various pore sizes, loadings, low volume columns, ancillary reagents in configurations suitable for each synthesizer, and DNA purification cartridges is another way ChemGenes meets its customers' needs. A large variety of Reagents for the synthesis of DNA/RNA are also available, which include many natural and modified nucleoside bases, tetrazole, 5-thioethyltetrazole, DMT-chloride, DMT protected deoxy and ribo nucleosides, 2'-O-methyl and 2'-O-propargyl nucleosides, silyl protected ribonucleosides, several types of phosphorylating reagents, and many more. As the market for oligonucleotides continues to grow, ChemGenes will stay committed to introducing novel products, while maintaining its existing product mix. We also have the capacity to custom-synthesize products on request. Our highly-trained technical staff is always available and happy to help you with your special needs and demands in this area. For information regarding the full range of products and their applications, please call us at 800-762-9323.
---
Exhibitor
Biophysical Analysis of Molecular Interactions with switchSENSE®
switchSENSE® is an automated biosensor chip technology that employs electrically actuated DNA nanolevers for the real-time measurement of binding kinetics (kON, kOFF) and affinities (KD). Interactions between proteins, DNA/RNA, and small molecules can be detected with femto-molar sensitivity. At the same time, protein diameters (DH) are analyzed with Angstrom accuracy and conformational changes as well as melting transitions (TM) can be measured using minimal amounts of sample.
The principles and applicability of three complementary measurement modalities provided by switchSENSE® will be introduced in this talk: Fluorescence Proximity Sensing, Molecular Ruler Measurements, and Switching Dynamics Measurements. In addition to standard workflows we'll discuss unique possibilities for the functionalization of the sensor surface, i.e. the electrical adjustment of ligand densities and the precise assembly of different ligands on bifunctional nanolevers.
Application examples from drug development, quality control, and fundamental research will be discussed, including:
– Analysis of complex binders: high-affinity antibodies and bispecific antibody formats
– Small molecule induced conformational changes in proteins including dimers and aggregates
– RNA/DNA binding proteins including riboswitches and aptamers
– 'large' object binding including liposomes and virus-like particles
– nucleic acid : nucleic acid methodologies for genotyping, antisense and SNP detection
– Enzymatic activity of polymerases and CRISPR/Cas9
An introductory movie is presented here https://www.youtube.com/watch?v=amGw7txpGzM&autoplay=1
---
Exhibitor
2bind GmbH is a globally acting provider for biophysical, analytical services. Our mission is to help our customers and collaboration partners to drive their science.
Since 5 years, we are deepening our knowledge in the characterization of aptamer-target interactions by intense collaborations with experts in the field. We optimized our MicroScale Thermophoresis (MST) platform in terms of speed, accuracy, sample consumption and cost-efficiency, to be able to offer high quality binding data (affinity, stoichiometry and thermodynamics) of aptamer-target interactions of any kind. The in-solution method MST offers free choice of buffers and works independent of the size of the aptamer ligand.
Our service portfolio comprises of high throughput screening assays, binding assays, competition assays, assays in bioliquids and assays with multiple binding partners.
If you need to determine basic binding parameters of your favorite interaction, be smart and work with the MST experts at 2bind.
---
Aptamers 2016 Sponsors
Gold Sponsor and Exhibitor
Aptamer Solutions Ltd is a York based Biotechnology Company specialising in the custom selection of high-affinity and highly specific nucleic acid aptamers for use in the life sciences sector. Our proprietary automated high-throughput aptamer selection processes allow us to offer a flexible and competitive pricing structure for the development of RNA and DNA aptamers. In addition, we are about to launch a new complementary technology in the area of biomarker discovery.
Our proprietary aptamer based biomarker discovery platform and proprietary combinatorial libraries contain up to and over 1018 different molecules, this diversity and bespoke library design is fundamental to the success of the screening process. This technology enables us to greatly speed up the identification of novel biomarkers as well as diagnostics and/or therapeutic candidate molecules. This technology builds on one of the most powerful uses of aptamer technology, which is the ability for aptamers to be isolated against targets without any prior knowledge of the target.
Our aptamer-based proteomic technology identifies novel biomarkers within the cell surface (such as tumours, cell lines or stem cells) or in samples of biological fluids (such as, urine, plasma and saliva). The technology is versatile and can also be applied to viruses, bacteria, fungi or any other cell based materials or extracts. The discovery process is driven by identifying differences between sample population using enormous aptamer libraries. Samples are prepared based on broad classifications such as: disease vs normal; pre-metastatic vs. post metastatic cancers; pathogenic vs non-pathogenic fungi etc. The process is fast and efficient and identifies differences between 'healthy' and 'diseased' whilst simultaneously developing the affinity reagent. This cuts out many of the steps associated with traditional biomarker discovery processes.
---
Gold Sponsor and Exhibitor
RIBOMIC Inc is a biopharmaceutical venture company based in Tokyo. The company is developing molecular targeted pharmaceutical drugs using RNA aptamers with its unique and advanced platform technologies called the RiboART System.
RIBOMIC has been promoting the pharmaceutical discovery program in collaboration with Otsuka Pharmaceutical Co., Ltd., Taisho Pharmaceutical Co., Ltd., The University of Tokyo, and some other academic partners. Especially in April 2014, RIBOMIC entered into a world-wide exclusive license agreement for the anti-NGF aptamer (RBM004) with Fujimoto Pharmaceutical Corporation. In September 2015, RIBOMIC Inc. was listed on The Tokyo Stock Exchange Corporation Mothers Market…read more on the company website…
---
Bronze Sponsor and Exhibitor
HORIBA is a Japanese company divided in 5 segments, Automotive test systems, Process and Environment, Medical, Semiconductors and Scientific. The HORIBA Group mission is to provide superior technologies, unique products, and top-quality services in the analytical and measurement fields. Applying core technologies accumulated over the years, HORIBA provides products and services derived from unremitting research and development. Throughout its business activities, the HORIBA Group energetically focuses on three concerns: the environment, safety, and health. HORIBA Scientific is a worldwide leader in development and production of analytical measurement equipment for research, analysis for laboratories, and quality control. Life science is the scientific pursuit of life and its processes. This contributes to improving the Quality of Life and the progress of drug development and medical treatment, and is connected to mankind's ultimate concern, «living life in good health». Materials and physico-chemical mechanisms play a central role in life phenomena. Thanks to our long-standing expertise in advanced materials, HORIBA Scientific has developed a full range of instruments (Fluorescence and Raman spectroscopy, Particle size analysers, ellipsometry and  Surface Plasmon Resonance Imaging) to improve our understanding of life, from the molecular to the organism level. 
---
Bronze Sponsor and Exhibitor
Izon Science designs, manufactures and sells precision instrumentation for nano- and micro-scale particle analysis.  Using its technology, Tunable Resistive Pulse Sensing (TRPS), thousands of particles can be accurately analyzed for their size, concentration and charge.  The technology is highly flexible and directly measures a wide range of biological and synthetic particles with individual particle resolution.   Applications include the characterization of extracellular vesicles, viruses, cells and nanoparticles and microbubbles for drug delivery research.  Izon's instruments are in use in research institutes, universities, and pharmaceutical and biotechnology companies around the world.
---
Bronze Sponsor and Exhibitor
ATDBio was established to provide high quality oligonucleotides to scientists around the world. ATDBio oligonucleotides are used successfully in academic and commercial research in the fields of genetics, genomics, molecular biology, biochemistry, biotechnology and nanotechnology. We supply a wide range of custom-made unmodified and chemically modified oligonucleotides for small and large scale applications. ATDBio specialises in highly modified oligonucleotides. Each oligonucleotide we make is unique, and we insist on the highest standards to maintain the best possible quality for every oligonucleotide. 
---
Bronze Sponsor and Exhibitor
AuramerBio is an aptamer development company from Wellington New Zealand, we specialise in the translation of aptamer science into analytical tools and diagnostic assays. Our team is particularly proficient with small molecule targets, as illustrated by our growing catalogue of gold standard hormone binding aptamers. It is our vision to see aptamer science break out of niche science labs and into mainstream analytical and diagnostic use. As well as offering a number of aptamer based assays we are also developing a quantitative point of care device for measuring fertility hormones. Our team has a wide skill-base consisting of molecular biologists, synthetic chemists, physicists and surface chemistry experts positioning us perfectly to rapidly deploy aptamers into many analytical assay and device platforms.   
We work with a wide range of customers from academic to commercial to develop aptamer solutions to meet their needs. Using our proprietary selection and optimisation methods we can produce industry leading DNA aptamers to bind the target of your choice. Once an aptamer has been developed we also offer a service to optimise the performance of the aptamer on a range of assay platforms.
Please contact us to discuss your aptamer development needs: jeremy.jones@auramerbio.com or chat to us at Aptamers 2016.
---
Lunch Sponsor
2bind GmbH, Regensburg, Germany, provides biophysical analyses of molecular interactions. We work with worldwide customers from pharma, biotech as well as universities on the characterization of molecular interactions in terms of binding affinities, stoichiometries and binding energetics. Our semi-automated platform based on the MicroScale Thermophoresis technology (MST) allows us to offer cost-efficient, precise and fast analyses of molecular interactions. The integrated quality controls of the MST system enable us to easily identify sticking and aggregation effects and to directly improve measurement conditions ensuring high quality data. In addition to immobilization-free measurements in free solution, MST offers free choice of buffer, allowing close to native measurements in sera and lysates. Besides the low sample consumption our customers benefit from the broad application range of the MST. With our strong expertise in assay development, the company established standardized assays to analyze aptamer-target interactions in semi-high throughput for the aptamer developing industry and scientists. Further MST services includes competition assays, binding site mapping assays and binding assays that simultaneously test multiple binding partners. Hence, our services based on the MST technology are perfectly suitable for the identification, characterization and optimization of aptamer-target interactions.
---
Exhibitor
IBA GmbH – Your partner for custom-made Aptamers
IBA GmbH is a biotech company located in Goettingen, Germany. Since 1991 our nucleic acid division has focused on specialized nucleic acid custom services, which require particular care and highest quality. These include custom-made DNA and RNA oligonucleotides, chimers, modified and labeled nucleic acids (e.g. for real-time PCR) as well as dinucleotides and triphosphates.
Taking advantage of the n